T Align – Goal Alignment Process
---
Align your employees' goals with your organization's goals.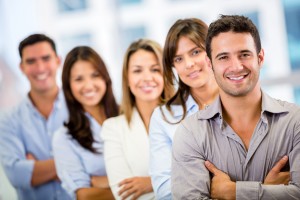 Regardless of your industry or the size of your company, you have multiple teams who do widely different jobs across your business. We can help you keep them all aligned and on-track to succeed, providing you with a goal alignment process that truly works for your specific company.
Our Denver business consulting experts work with each team and manager to allow leaders to run their team successfully, without compromising your company's goals. In this way, we can guide you toward unity of purpose, conflict resolution, and optimized performance.
---
Benefits of Our Goal Alignment Process
When your managers across the board agree, your company succeeds.
By identifying problem areas and giving your team members a safe, productive space to address frustrations, we are able to provide them with a process through which they can work together to align their choices. These are a few of the benefits of our goal alignment process:
Improved team interactions
Improved employee engagement
Improved collaboration
Updated systems and processes which help support your company's goals
A synergistic, productive, and efficient atmosphere
Process that identifies, anticipates, and mitigates current and future goal conflict
---
Management Training: What's Included in T Align
Employee Assessment
Insight into individual's needs, stress behaviors, and strengths.
Includes a personality assessment and a consultative debrief of the results for every member on your team.
Team Climate Assessment
Identifies how different perspectives within your team result in polarity and conflict.
Uses this information to name the real issues, address them, and build commitment to a plan to move forward.
Provides safe place for employees to vent frustrations.
Identifies stress points within a team.
Goal Alignment
Identifies personal and team goals and where they differ from organizational and project goals.
Develops a system for recognizing misalignment and setting new expectations that support common goals.
Performance Measurement
Aligns team goals and the expectations of each individual with metrics to measure performance.
---
Related Services
T Dev courses provide learning and development in specific areas.
T Wise one-on-one advising provides individual direction for developing managers and leaders.
T Perform establishes clearly defined expectations and personal accountability.
T Leadership provides leadership development training.
If you're ready to align your organization and teams, then you're ready to capitalize on this alignment program for your company today.
Schedule an appointment to discuss your opportunity or email us at info@transformationpoint.com.